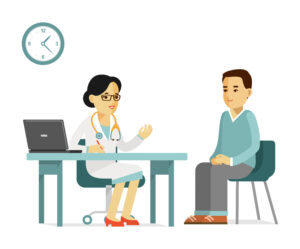 If you're like most people, you probably don't love going to the doctor, but it's something that needs to be done in order to ensure you get the treatment you need after an injury. This holds even more true for people who suffer an injury on the job, because waiting to go to the doctor or missing regular appointments can reduce your odds of winning an injury award. In today's blog, we explain how gaps in your medical care can affect your workers' compensation claim.

Why Care Gaps Can Hurt Your Injury Claim
We always tell our clients and anyone who is considering filing for workers' compensation to make sure they seek out medical care as quickly as possible after the injury, and to avoid missing any follow-up appointments, otherwise they'll be handing the insurance company a reason to question the legitimacy of the claim. That's because the workers' compensation process is designed to provide financial assistance while the injured worker is attempting to return to gainful employment in some capacity. The last part of that sentence is where gaps in medical care can cause issues. If you are skipping appointments and follow ups, the insurance company can make the argument that you are not acting in good faith in order to attempt to return to work following an injury, and they can deny or stop paying your benefits.
This is also true in regards to seeking medical care as soon as possible after the initial injury. If you suffered the injury in June but didn't report it to management or seek a medical evaluation until November, the insurance company may have some serious reservations about approving your claim. They may argue that you're not as injured as you claim, or that the actual injury occurred elsewhere outside of work. Even if that's not true, you may find it difficult to prove your injury's legitimacy if you waited a long time after the injury to seek care.

It's very important to avoid missing follow ups or physical therapy appointments as you work to recover after an on-the-job injury, but we understand there are legitimate reasons as to why you missed an appointment. If you know in advance of an issue, work to reschedule so that it doesn't get flagged as a missed appointment, and if you do end up missing a session, let your lawyer know as soon as possible. Also let them know the reason why you were unable to attend. We're going to have to counter any claims made by the insurance company, so the more we know about the missed appointment, the easier it will be to avoid hiccups with your case.
Remember, the insurance company will look for any possible avenue to reduce your payout, even if you have a legitimate claim, and one technique they use when they are struggling to make a case is to look for gaps in medical care. We understand that life can get hectic in the wake of an on-the-job injury, but really work to ensure that it doesn't result in extensive or repetitive gaps in your medical care.
If you want assistance putting together your injury claim or fighting back against a claim denial because of gaps in medical care or for any other reason, reach out to Dean and the team at Margolis Law Firm. We know how to develop an airtight case and ensure you get the compensation you deserve. Don't let the insurance company bully you because there were some legitimate gaps in your medical care. To get what you deserve and protect your interests from the insurance company, give Dean and his team a call today at (952) 230-2700.