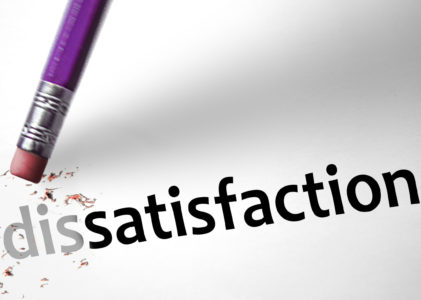 If you're injured at work and need to file a workers' compensation claim, you're probably already frustrated about the prospect of missing work and filing all the necessary paperwork. Oftentimes issues can come up during your case that can make the situation even more of a headache, and nobody wants that. So today, we're going to talk about some common complaints people have about their workers' compensation case, and how to avoid being dissatisfied with the outcome of your claim.
Not Satisfied With My Workers' Compensation Claim
In an industry fueled by big insurance companies trying to save every penny possible, it's not surprising that many injured workers are frustrated by the outcome of their workers' compensation case. In fact, a recent study by Martindale-Nolo found that 56 percent of injured workers reported being dissatisfied with the outcome of their case. So why were these injured workers unhappy with the final outcome? Here's a look at some of the listed reasons:
Not enough compensation

Inadequate medical treatment

System seemed biased
Those were the most common claimants. So what would workers have done differently, and how can you walk away satisfied with the outcome of your case?
Getting The Most Out Of Your Workers' Compensation Case
This may sound obvious coming from a workers' compensation law firm, but hear us out. If you want to avoid those three most common reasons for dissatisfaction, your best bet is to hire a lawyer. We'll explain why a lawyer can help you with those three points below.
The same study that looked at claim satisfaction also looked at compensation awards for individuals who filed their claim on their own versus those who hired a lawyer. Not only did individuals who hired a lawyer receive a larger claim award, the average difference was thousands of dollars more, even after legal fees for professional representation was taken out!
Next is the problem of inadequate medical treatment. You employer may try to direct you to a certain doctor, but in Minnesota you have the right to go to a doctor of your choosing to be evaluated after a work injury. Work comp lawyers can usually refer you to a physician in your area that has a great reputation for taking their time and really getting to the bottom of a patient's injury.
Finally, onto the point about a biased system. If your case goes to mediation and it's just you versus lawyers from the other side, it's impossible to expect that you'll get the best deal and thus you may feel the system is biased. However, of the individuals who said they were satisfied with the outcome of their case, 69% said they had hired a lawyer, suggesting that a lawyer can help give you a fair shake in a biased system.
What would these dissatisfied claimants done differently if they could do it all again? The most common responses were: Report your injury right away, educate yourself about your rights, keep detailed records, go to all appointments and consider legal counsel.
For more information on filing a workers' compensation claim in Minnesota, reach out to Dean Margolis today.